July 10th - Jam the Stands Night/Military Night - Free Admission. Thanks to North Star Community Services & Halvor Lines.

July 29th & 30th - Monster Trucks Invade Halvor Lines Speedway!

Midsummer Night of Mayhem is returning to the Havlor Lines Speedway August 6th!

50th Annual Silver 1000/Structural Buildings Late Models Thursday September 1st - Rain date Thursday September 29th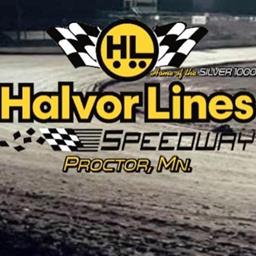 5/31/2020 - Halvor Lines Speedway
Proctor, MN
Meet the Drivers Night and Scout Night
$1,000 to win for WISSOTA Late Models-sponsored by Twenty Eight Special Race Cars.
Hot Laps At

4:30 PM

Racing Starts

5:00 PM
WISSOTA Late Model
WISSOTA Modifieds
WISSOTA Super Stock
WISSOTA Midwest Mods
WISSOTA Pure Stock
WISSOTA Hornet