July 10th - Jam the Stands Night/Military Night - Free Admission. Thanks to North Star Community Services & Halvor Lines.

July 29th & 30th - Monster Trucks Invade Halvor Lines Speedway!

Midsummer Night of Mayhem is returning to the Havlor Lines Speedway August 6th!

50th Annual Silver 1000/Structural Buildings Late Models Thursday September 1st - Rain date Thursday September 29th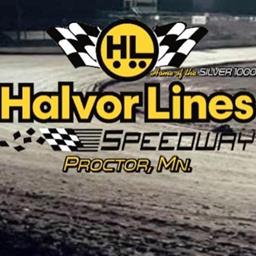 8/14/2022 - Halvor Lines Speedway
Proctor, MN
Dead on Arms - Regular Racing with Non-Winged Sprint Cars /Toy Drive
Dead On Arms presents Regular Racing for Late Models, Modifieds, Midwest Modifieds, Super Stocks, Pure Stocks, and Hornets. The Northern Renegade Sprint Car Series will also be in action.
Toy Drive for area kids in need!
Draw cutoff 4:15
WISSOTA Late Model

19 entries

WISSOTA Modifieds

10 entries

WISSOTA Super Stock

12 entries

WISSOTA Midwest Mods

20 entries

WISSOTA Pure Stock

8 entries

WISSOTA Hornet

14 entries

Northern Renegades Non-Winged Sprint Cars

14 entries
Full Event Information on MyRacePass
WISSOTA Late Model
Finish
Start
#
Competitor
Hometown
+/-
1
5
11B
Jody Bellefeuille Duluth, MN
Duluth, MN
4
2
6
6M
Jeff Massingill Keewatin, MN
Keewatin, MN
4
3
4
17
Deven VanHouse Silver Bay, MN
Silver Bay, MN
1
4
9
28
Jeff Provinzino Hibbing, MN
Hibbing, MN
5
5
19
47
Danny Vang Deerwood, MN
Deerwood, MN
14
6
1
11D
Tim McMann Duluth, MN
Duluth, MN
-5
7
14
UPI
Terry Lillo Duluth, MN
Duluth, MN
7
8
10
9M
Ronnie Malecki Duluth, MN
Duluth, MN
2
9
18
35
George Ledin Jr Britt, MN
Britt, MN
9
10
13
42
Tim Lillo Superior, WI
Superior, WI
3
11 DNF
3
51
Chuck Olson Cannon Falls, MN
Cannon Falls, MN
-8
12 DNF
11
32
Max Nelson Milaca, MN
Milaca, MN
-1
13 DNF
2
7C
Robbie Cooper South Range, WI
South Range, WI
-11
14 DNF
15
9
Chris Lillo Duluth, MN
Duluth, MN
1
15 DNF
17
75
Eric Lillo Proctor, MN
Proctor, MN
2
16 DNF
7
7
Harry Hanson Eveleth, MN
Eveleth, MN
-9
17 DNF
16
12X
Ben Heinle Bovey, MN
Bovey, MN
-1
18 DNF
8
54L
Jayme Lautigar Gilbert, MN
Gilbert, MN
-10
DQ
12
24L
Aaron Lillo Proctor, MN
Proctor, MN
-
Finish
Start
#
Competitor
Hometown
+/-
1
2
6M
Jeff Massingill Keewatin, MN
Keewatin, MN
1
2
4
28
Jeff Provinzino Hibbing, MN
Hibbing, MN
2
3
7
7
Harry Hanson Eveleth, MN
Eveleth, MN
4
4
3
9M
Ronnie Malecki Duluth, MN
Duluth, MN
-1
5
6
42
Tim Lillo Superior, WI
Superior, WI
1
6
5
12X
Ben Heinle Bovey, MN
Bovey, MN
-1
7 DNF
1
47
Danny Vang Deerwood, MN
Deerwood, MN
-6
All transfer
Finish
Start
#
Competitor
Hometown
+/-
1
1
17
Deven VanHouse Silver Bay, MN
Silver Bay, MN
-
2
2
7C
Robbie Cooper South Range, WI
South Range, WI
-
3
6
11B
Jody Bellefeuille Duluth, MN
Duluth, MN
3
4
3
32
Max Nelson Milaca, MN
Milaca, MN
-1
5
4
UPI
Terry Lillo Duluth, MN
Duluth, MN
-1
6
5
75
Eric Lillo Proctor, MN
Proctor, MN
-1
All transfer
Finish
Start
#
Competitor
Hometown
+/-
1
1
54L
Jayme Lautigar Gilbert, MN
Gilbert, MN
-
2
2
11D
Tim McMann Duluth, MN
Duluth, MN
-
3
3
51
Chuck Olson Cannon Falls, MN
Cannon Falls, MN
-
4
6
24L
Aaron Lillo Proctor, MN
Proctor, MN
2
5
4
9
Chris Lillo Duluth, MN
Duluth, MN
-1
6
5
35
George Ledin Jr Britt, MN
Britt, MN
-1
All transfer
WISSOTA Modifieds
Finish
Start
#
Competitor
Hometown
+/-
1
2
68K
Dan Kingsley Superior, WI
Superior, WI
1
2
8
11
Jody Bellefeuille Duluth, MN
Duluth, MN
6
3
6
19J
Jack Rivord Superior, WI
Superior, WI
3
4
3
9
Billy Kendall III Walker, MN
Walker, MN
-1
5
7
22
Brandon Copp Brule, WI
Brule, WI
2
6
5
4A
Hunter Anderson Phillips, WI
Phillips, WI
-1
7
10
T23
John Toppozini Thunder Bay, ON
Thunder Bay, ON
3
8
4
621
Colin Chaschuk Neebing, ON
Neebing, ON
-4
9 DNF
1
76
Keith Koski Hibbing, MN
Hibbing, MN
-8
DNS
9
1L
Donnie Lofdahl Duluth, MN
Duluth, MN
-
Finish
Start
#
Competitor
Hometown
+/-
1
1
22
Brandon Copp Brule, WI
Brule, WI
-
2
5
19J
Jack Rivord Superior, WI
Superior, WI
3
3
3
76
Keith Koski Hibbing, MN
Hibbing, MN
-
4 DNF
4
11
Jody Bellefeuille Duluth, MN
Duluth, MN
-
5 DNF
2
1L
Donnie Lofdahl Duluth, MN
Duluth, MN
-3
All transfer
Finish
Start
#
Competitor
Hometown
+/-
1
2
621
Colin Chaschuk Neebing, ON
Neebing, ON
1
2
3
68K
Dan Kingsley Superior, WI
Superior, WI
1
3
1
4A
Hunter Anderson Phillips, WI
Phillips, WI
-2
4
5
9
Billy Kendall III Walker, MN
Walker, MN
1
5 DNF
4
T23
John Toppozini Thunder Bay, ON
Thunder Bay, ON
-1
All transfer
WISSOTA Super Stock
Finish
Start
#
Competitor
Hometown
+/-
1
8
21F
Nick Oreskovich Mason, WI
Mason, WI
7
2
1
5
Jase Lien Mora, MN
Mora, MN
-1
3
6
12K
Duane (D.J.) Keeler Superior, WI
Superior, WI
3
4
5
32F
Brian Carl Duluth, MN
Duluth, MN
1
5
7
63
Jake Froemke International Falls, MN
International Falls, MN
2
6
11
77
Scott Lawrence Superior, WI
Superior, WI
5
7
9
22
Mike Sirois Duluth, MN
Duluth, MN
2
8
4
41
Mikey Vajdl Chisholm, MN
Chisholm, MN
-4
9
10
34
Taylor Madrinich Duluth, MN
Duluth, MN
1
10
3
37
John Garrity Thunder Bay, ON
Thunder Bay, ON
-7
11
2
41X
Brian Vajdl Chisholm, MN
Chisholm, MN
-9
12
12
214
Tucker Budreau Zimmerman, MN
Zimmerman, MN
-
Finish
Start
#
Competitor
Hometown
+/-
1
2
12K
Duane (D.J.) Keeler Superior, WI
Superior, WI
1
2
4
41
Mikey Vajdl Chisholm, MN
Chisholm, MN
2
3
6
32F
Brian Carl Duluth, MN
Duluth, MN
3
4
3
37
John Garrity Thunder Bay, ON
Thunder Bay, ON
-1
5 DNF
1
77
Scott Lawrence Superior, WI
Superior, WI
-4
6 DNF
5
214
Tucker Budreau Zimmerman, MN
Zimmerman, MN
-1
All transfer
Finish
Start
#
Competitor
Hometown
+/-
1
1
5
Jase Lien Mora, MN
Mora, MN
-
2
4
63
Jake Froemke International Falls, MN
International Falls, MN
2
3
5
21F
Nick Oreskovich Mason, WI
Mason, WI
2
4
2
41X
Brian Vajdl Chisholm, MN
Chisholm, MN
-2
5
3
22
Mike Sirois Duluth, MN
Duluth, MN
-2
6
6
34
Taylor Madrinich Duluth, MN
Duluth, MN
-
All transfer
WISSOTA Midwest Mods
Finish
Start
#
Competitor
Hometown
+/-
1
6
32III
Cody Carlson Superior, WI
Superior, WI
5
2
2
4L
Carey LePage Culver, MN
Culver, MN
-
3
8
18S
Kennedy Swan Chippewa Falls, WI
Chippewa Falls, WI
5
4
1
24X
Todd Carlson Andover, MN
Andover, MN
-3
5
4
28
Paul Ripley Duluth, MN
Duluth, MN
-1
6
7
4AL
Dane Olson Littlefork, MN
Littlefork, MN
1
7
3
94
Matt Sorenson Duluth, MN
Duluth, MN
-4
8
9
18X
Dylan Miller Hibbing, MN
Hibbing, MN
1
9
13
87
William Moelter Elk Mound, WI
Elk Mound, WI
4
10
11
10JR
Mikey Blevins Hibbing, MN
Hibbing, MN
1
11
17
3M
McLean Andrews Duluth, MN
Duluth, MN
6
12
14
64
Evan Checkalski Duluth, MN
Duluth, MN
2
13
12
33
Kyle Oman Chisholm, MN
Chisholm, MN
-1
14
15
69
Justin Bassa Cotton, MN
Cotton, MN
1
15
20
10
Sam Blevins Hibbing, MN
Hibbing, MN
5
16
16
87G
Anthony Gallian Superior, WI
Superior, WI
-
17 DNF
19
3B
Austin Blom Saginaw, MN
Saginaw, MN
2
18 DNF
5
89
Kolby Reed Thunder Bay, ON
Thunder Bay, ON
-13
19 DNF
10
2
Tanner Gehl Solon Springs, WI
Solon Springs, WI
-9
DNS
18
34
Taylor Madrinich Duluth, MN
Duluth, MN
-
Finish
Start
#
Competitor
Hometown
+/-
1
2
4AL
Dane Olson Littlefork, MN
Littlefork, MN
1
2
4
18S
Kennedy Swan Chippewa Falls, WI
Chippewa Falls, WI
2
3
1
24X
Todd Carlson Andover, MN
Andover, MN
-2
4
5
2
Tanner Gehl Solon Springs, WI
Solon Springs, WI
1
5
3
87
William Moelter Elk Mound, WI
Elk Mound, WI
-2
6
7
87G
Anthony Gallian Superior, WI
Superior, WI
1
DQ
6
10
Sam Blevins Hibbing, MN
Hibbing, MN
-
All transfer
Finish
Start
#
Competitor
Hometown
+/-
1
1
18X
Dylan Miller Hibbing, MN
Hibbing, MN
-
2
2
4L
Carey LePage Culver, MN
Culver, MN
-
3
4
89
Kolby Reed Thunder Bay, ON
Thunder Bay, ON
1
4
3
10JR
Mikey Blevins Hibbing, MN
Hibbing, MN
-1
5
6
64
Evan Checkalski Duluth, MN
Duluth, MN
1
6
5
3M
McLean Andrews Duluth, MN
Duluth, MN
-1
7
7
3B
Austin Blom Saginaw, MN
Saginaw, MN
-
All transfer
Finish
Start
#
Competitor
Hometown
+/-
1
1
28
Paul Ripley Duluth, MN
Duluth, MN
-
2
5
32III
Cody Carlson Superior, WI
Superior, WI
3
3
2
94
Matt Sorenson Duluth, MN
Duluth, MN
-1
4
4
33
Kyle Oman Chisholm, MN
Chisholm, MN
-
5
6
69
Justin Bassa Cotton, MN
Cotton, MN
1
6
3
34
Taylor Madrinich Duluth, MN
Duluth, MN
-3
All transfer
WISSOTA Pure Stock
Finish
Start
#
Competitor
Hometown
+/-
1
5
40
Chad Finckbone Grand Rapids, MN
Grand Rapids, MN
4
2
2
31
Tom Treviranus Hawthorne, WI
Hawthorne, WI
-
3
4
16
Cory Jorgensen Duluth, MN
Duluth, MN
1
4
8
17
Aaron Bernick Duluth, MN
Duluth, MN
4
5
3
N8
Nate Rose Duluth, MN
Duluth, MN
-2
6
7
131
Jessie Limberios Poplar, WI
Poplar, WI
1
7
6
9W
Anthony Woodhull Superior, WI
Superior, WI
-1
8 DNF
1
40C
Chaston Finckbone Grand Rapids, MN
Grand Rapids, MN
-7
Finish
Start
#
Competitor
Hometown
+/-
1
1
31
Tom Treviranus Hawthorne, WI
Hawthorne, WI
-
2
4
40C
Chaston Finckbone Grand Rapids, MN
Grand Rapids, MN
2
3
5
16
Cory Jorgensen Duluth, MN
Duluth, MN
2
4
7
40
Chad Finckbone Grand Rapids, MN
Grand Rapids, MN
3
5
2
N8
Nate Rose Duluth, MN
Duluth, MN
-3
6
6
9W
Anthony Woodhull Superior, WI
Superior, WI
-
7
8
131
Jessie Limberios Poplar, WI
Poplar, WI
1
DQ
3
17
Aaron Bernick Duluth, MN
Duluth, MN
-
All transfer
WISSOTA Hornet
Finish
Start
#
Competitor
Hometown
+/-
1
1
47J
Justin Barsness Grand Rapids, MN
Grand Rapids, MN
-
2
7
14A
A.J. House Cloquet, MN
Cloquet, MN
5
3
4
44K
Joshua Kough Proctor, MN
Proctor, MN
1
4
5
00
Derek Ament Barnum, MN
Barnum, MN
1
5
3
40R
Tristen McLynn Grand Rapids, MN
Grand Rapids, MN
-2
6
8
45
Keegan Kough Proctor, MN
Proctor, MN
2
7
6
25X
Bonnie McLynn Grand Rapids, MN
Grand Rapids, MN
-1
8
9
23
Kristy Marken Duluth, MN
Duluth, MN
1
9
11
71
Wally Ament Carlton, MN
Carlton, MN
2
10
14
10A
Riley Ament Mahtowa, MN
Mahtowa, MN
4
11 DNF
2
7S
Marty Serbus Kinney, MN
Kinney, MN
-9
12 DNF
10
29
Noah Rose Duluth, MN
Duluth, MN
-2
DNS
13
9
Lucas Lillo Duluth, MN
Duluth, MN
-
DNS
12
29L
Eva Lillo Duluth, MN
Duluth, MN
-
Finish
Start
#
Competitor
Hometown
+/-
1
1
14A
A.J. House Cloquet, MN
Cloquet, MN
-
2
5
47J
Justin Barsness Grand Rapids, MN
Grand Rapids, MN
3
3
2
00
Derek Ament Barnum, MN
Barnum, MN
-1
4
7
44K
Joshua Kough Proctor, MN
Proctor, MN
3
5
4
23
Kristy Marken Duluth, MN
Duluth, MN
-1
6
3
71
Wally Ament Carlton, MN
Carlton, MN
-3
7
6
29L
Eva Lillo Duluth, MN
Duluth, MN
-1
All transfer
Finish
Start
#
Competitor
Hometown
+/-
1
1
45
Keegan Kough Proctor, MN
Proctor, MN
-
2
6
7S
Marty Serbus Kinney, MN
Kinney, MN
4
3
3
40R
Tristen McLynn Grand Rapids, MN
Grand Rapids, MN
-
4
4
25X
Bonnie McLynn Grand Rapids, MN
Grand Rapids, MN
-
5
5
29
Noah Rose Duluth, MN
Duluth, MN
-
6
7
10A
Riley Ament Mahtowa, MN
Mahtowa, MN
1
7 DNF
2
9
Lucas Lillo Duluth, MN
Duluth, MN
-5
All transfer
Northern Renegades Non-Winged Sprint Cars
Finish
Start
#
Competitor
Hometown
+/-
1
1
101
Paul Schultz Grand Rapids, MN
Grand Rapids, MN
-
2
6
46H
Ken Hron Grand Rapids, MN
Grand Rapids, MN
4
3
7
30M
Chris Lewis Grand Rapids, MN
Grand Rapids, MN
4
4
3
10C
Travis Case Grand Rapids, MN
Grand Rapids, MN
-1
5
5
19
Jori Hughes Redondo Beach, CA
Redondo Beach, CA
-
6
12
11
Jesse Grife Grand Rapids, MN
Grand Rapids, MN
6
7
4
Z15
Zach Olson Grand Rapids, MN
Grand Rapids, MN
-3
8
9
250
Brad Larson Ely, MN
Ely, MN
1
9
13
17K
Mackenzie Bjorklund Sandstone, MN
Sandstone, MN
4
10
11
135
Joshua Hulberg Cannon Falls, MN
Cannon Falls, MN
1
11 DNF
10
17
Erik Bjorklund Sandstone, MN
Sandstone, MN
-1
12 DNF
2
47
Jake Barsness Grand Rapids, MN
Grand Rapids, MN
-10
13 DNF
8
20L
Lucas Logue Rush City, MN
Rush City, MN
-5
DNS
14
36
Tyler Wass Big Fork, MN
Big Fork, MN
-
Finish
Start
#
Competitor
Hometown
+/-
1
2
19
Jori Hughes Redondo Beach, CA
Redondo Beach, CA
1
2
6
30M
Chris Lewis Grand Rapids, MN
Grand Rapids, MN
4
3
3
20L
Lucas Logue Rush City, MN
Rush City, MN
-
4
7
Z15
Zach Olson Grand Rapids, MN
Grand Rapids, MN
3
5
1
250
Brad Larson Ely, MN
Ely, MN
-4
6
5
135
Joshua Hulberg Cannon Falls, MN
Cannon Falls, MN
-1
7
4
17K
Mackenzie Bjorklund Sandstone, MN
Sandstone, MN
-3
All transfer
Finish
Start
#
Competitor
Hometown
+/-
1
1
101
Paul Schultz Grand Rapids, MN
Grand Rapids, MN
-
2
2
10C
Travis Case Grand Rapids, MN
Grand Rapids, MN
-
3
6
46H
Ken Hron Grand Rapids, MN
Grand Rapids, MN
3
4
5
17
Erik Bjorklund Sandstone, MN
Sandstone, MN
1
5
3
47
Jake Barsness Grand Rapids, MN
Grand Rapids, MN
-2
6
7
11
Jesse Grife Grand Rapids, MN
Grand Rapids, MN
1
DNS
4
36
Tyler Wass Big Fork, MN
Big Fork, MN
-
All transfer