July 10th - Jam the Stands Night/Military Night - Free Admission. Thanks to North Star Community Services & Halvor Lines.

July 29th & 30th - Monster Trucks Invade Halvor Lines Speedway!

Midsummer Night of Mayhem is returning to the Havlor Lines Speedway August 6th!

50th Annual Silver 1000/Structural Buildings Late Models Thursday September 1st - Rain date Thursday September 29th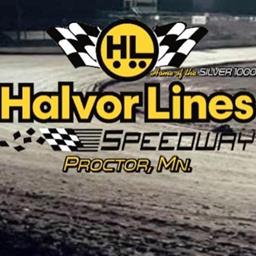 8/21/2022 - Halvor Lines Speedway
Proctor, MN
Season Championship Night With Fastlane Motorsports Northland Super Stock Series
The Fastlane Motorsports Nortland Super Stock Series will be making their final stop to crown the 2022 champion. Along with the crowning of the regular season champions!
Draw cutoff/Pit meeting 4:15
Order of Events:
Hotlaps/Heats
Midwest Mods
Modifieds
Supers
Lates
Pures
Hornets
Supers Bmains(If needed)
Intermission
Features(will be same order as heats)
WISSOTA Late Model

15 entries

WISSOTA Modifieds

13 entries

WISSOTA Super Stock

29 entries

WISSOTA Midwest Mods

14 entries

WISSOTA Pure Stock

11 entries

WISSOTA Hornet

14 entries
Full Event Information on MyRacePass
WISSOTA Late Model
Finish
Start
#
Competitor
Hometown
+/-
1
1
11B
Jody Bellefeuille Carlton, MN
Carlton, MN
-
2
6
44
Darrell Nelson Hermantown, MN
Hermantown, MN
4
3
3
7
Harry Hanson Eveleth, MN
Eveleth, MN
-
4
9
47
Danny Vang Deerwood, MN
Deerwood, MN
5
5
10
29F
Dave Flynn Superior, WI
Superior, WI
5
6
2
17
Deven VanHouse Silver Bay, MN
Silver Bay, MN
-4
7
5
24L
Aaron Lillo Proctor, MN
Proctor, MN
-2
8
4
11D
Tim McMann Duluth, MN
Duluth, MN
-4
9
11
UPI
Terry Lillo Duluth, MN
Duluth, MN
2
10
8
7C
Robbie Cooper South Range, WI
South Range, WI
-2
11
14
9M
Ronnie Malecki Duluth, MN
Duluth, MN
3
12
12
9
Chris Lillo Duluth, MN
Duluth, MN
-
13
15
75
Eric Lillo Proctor, MN
Proctor, MN
2
14
13
42
Tim Lillo Superior, WI
Superior, WI
-1
15 DNF
7
16
Derek Vesel Hibbing, MN
Hibbing, MN
-8
Finish
Start
#
Competitor
Hometown
+/-
1
3
44
Darrell Nelson Hermantown, MN
Hermantown, MN
2
2
1
11B
Jody Bellefeuille Carlton, MN
Carlton, MN
-1
3
4
7
Harry Hanson Eveleth, MN
Eveleth, MN
1
4
5
24L
Aaron Lillo Proctor, MN
Proctor, MN
1
5
6
47
Danny Vang Deerwood, MN
Deerwood, MN
1
6
7
UPI
Terry Lillo Duluth, MN
Duluth, MN
1
7
2
42
Tim Lillo Superior, WI
Superior, WI
-5
8
8
75
Eric Lillo Proctor, MN
Proctor, MN
-
All transfer
Finish
Start
#
Competitor
Hometown
+/-
1
1
11D
Tim McMann Duluth, MN
Duluth, MN
-
2
2
16
Derek Vesel Hibbing, MN
Hibbing, MN
-
3
4
17
Deven VanHouse Silver Bay, MN
Silver Bay, MN
1
4
5
7C
Robbie Cooper South Range, WI
South Range, WI
1
5
6
29F
Dave Flynn Superior, WI
Superior, WI
1
6
3
9
Chris Lillo Duluth, MN
Duluth, MN
-3
7
7
9M
Ronnie Malecki Duluth, MN
Duluth, MN
-
All transfer
WISSOTA Modifieds
Finish
Start
#
Competitor
Hometown
+/-
1
1
44
Darrell Nelson Hermantown, MN
Hermantown, MN
-
2
7
7A
Shane Sabraski Rice, MN
Rice, MN
5
3
4
19J
Jack Rivord Superior, WI
Superior, WI
1
4
6
22
Brandon Copp Brule, WI
Brule, WI
2
5
12
4A
Hunter Anderson Phillips, WI
Phillips, WI
7
6
8
11
Jody Bellefeuille Carlton, MN
Carlton, MN
2
7
5
24JR
Jeffrey Lien Jr Mora, MN
Mora, MN
-2
8
9
68K
Dan Kingsley Superior, WI
Superior, WI
1
9
3
88
Tanner Williamson Fort Frances, ON
Fort Frances, ON
-6
10
11
67
Weston Ramsrud Bagley, MN
Bagley, MN
1
11
13
9C
John Carpenter Hibbing, MN
Hibbing, MN
2
12 DNF
10
1L
Donnie Lofdahl Duluth, MN
Duluth, MN
-2
13 DNF
2
9
Billy Kendall III Walker, MN
Walker, MN
-11
Finish
Start
#
Competitor
Hometown
+/-
1
1
11
Jody Bellefeuille Carlton, MN
Carlton, MN
-
2
3
44
Darrell Nelson Hermantown, MN
Hermantown, MN
1
3
4
7A
Shane Sabraski Rice, MN
Rice, MN
1
4
2
88
Tanner Williamson Fort Frances, ON
Fort Frances, ON
-2
5
6
68K
Dan Kingsley Superior, WI
Superior, WI
1
DNS
5
4A
Hunter Anderson Phillips, WI
Phillips, WI
-
DNS
7
9C
John Carpenter Hibbing, MN
Hibbing, MN
-
All transfer
Finish
Start
#
Competitor
Hometown
+/-
1
1
22
Brandon Copp Brule, WI
Brule, WI
-
2
6
9
Billy Kendall III Walker, MN
Walker, MN
4
3
5
19J
Jack Rivord Superior, WI
Superior, WI
2
4
2
24JR
Jeffrey Lien Jr Mora, MN
Mora, MN
-2
5
3
1L
Donnie Lofdahl Duluth, MN
Duluth, MN
-2
6
4
67
Weston Ramsrud Bagley, MN
Bagley, MN
-2
All transfer
WISSOTA Super Stock
Finish
Start
#
Competitor
Hometown
+/-
1
1
26
Kyle Copp Brule, WI
Brule, WI
-
2
4
46
Dustin Nelson Ogilvie, MN
Ogilvie, MN
2
3
3
25
Dylan Nelson Merrifield, MN
Merrifield, MN
-
4
5
7A
Shane Sabraski Rice, MN
Rice, MN
1
5
13
51JR
Shawn McFadden Ashland, WI
Ashland, WI
8
6
8
21F
Nick Oreskovich Mason, WI
Mason, WI
2
7
11
77
Scott Lawrence Superior, WI
Superior, WI
4
8
2
36
Darin Meierotto Superior, WI
Superior, WI
-6
9
12
21C
Patrick Beeksma Ironwood, MI
Ironwood, MI
3
10
14
12K
Duane (D.J.) Keeler Superior, WI
Superior, WI
4
11
17
27
Matt Deragon Ashland, WI
Ashland, WI
6
12
16
33
Austin Niemeyer Brainerd, MN
Brainerd, MN
4
13
6
L1
Andrew Johnson Brainerd, MN
Brainerd, MN
-7
14
19
11
Tucker Quinn Ladysmith, WI
Ladysmith, WI
5
15
18
32F
Brian Carl Duluth, MN
Duluth, MN
3
16
10
22
Mike Sirois Duluth, MN
Duluth, MN
-6
17
29
3
Thomas Karaba Superior, WI
Superior, WI
12
18
7
77*
Josh Saunders Spooner, WI
Spooner, WI
-11
19
26
4A
Allan Cleveland Breckenridge, MN
Breckenridge, MN
7
20
25
6
Dan Peterson Foxboro, WI
Foxboro, WI
5
21 DNF
23
10X
Josh Schmidt Becker, MN
Becker, MN
2
22 DNF
9
7
Andrew Mackey Duluth, MN
Duluth, MN
-13
23 DNF
27
20
Chris Johnson Superior, WI
Superior, WI
4
24 DNF
21
2
Don Livingston Washburn, WI
Washburn, WI
-3
25 DNF
20
19X
William Fisher Shell Lake, WI
Shell Lake, WI
-5
26 DNF
28
34
Taylor Madrinich Duluth, MN
Duluth, MN
2
27 DNF
22
2F
Jeffrey Frey Ogilvie, MN
Ogilvie, MN
-5
28 DNF
24
20N
Jeremy North Huron, SD
Huron, SD
-4
29 DNF
15
28B
Stefan Hogue Altoona, WI
Altoona, WI
-14
Finish
Start
#
Competitor
Hometown
+/-
1
4
7A
Shane Sabraski Rice, MN
Rice, MN
3
2
2
25
Dylan Nelson Merrifield, MN
Merrifield, MN
-
3
6
7
Andrew Mackey Duluth, MN
Duluth, MN
3
4
5
51JR
Shawn McFadden Ashland, WI
Ashland, WI
1
5
7
27
Matt Deragon Ashland, WI
Ashland, WI
2
6
3
2
Don Livingston Washburn, WI
Washburn, WI
-3
7
1
6
Dan Peterson Foxboro, WI
Foxboro, WI
-6
8
8
3
Thomas Karaba Superior, WI
Superior, WI
-
All transfer
Finish
Start
#
Competitor
Hometown
+/-
1
1
21F
Nick Oreskovich Mason, WI
Mason, WI
-
2
3
L1
Andrew Johnson Brainerd, MN
Brainerd, MN
1
3
4
22
Mike Sirois Duluth, MN
Duluth, MN
1
4
7
12K
Duane (D.J.) Keeler Superior, WI
Superior, WI
3
5
5
32F
Brian Carl Duluth, MN
Duluth, MN
-
6
6
2F
Jeffrey Frey Ogilvie, MN
Ogilvie, MN
-
7
2
4A
Allan Cleveland Breckenridge, MN
Breckenridge, MN
-5
All transfer
Finish
Start
#
Competitor
Hometown
+/-
1
4
26
Kyle Copp Brule, WI
Brule, WI
3
2
1
77*
Josh Saunders Spooner, WI
Spooner, WI
-1
3
6
77
Scott Lawrence Superior, WI
Superior, WI
3
4
2
28B
Stefan Hogue Altoona, WI
Altoona, WI
-2
5
3
11
Tucker Quinn Ladysmith, WI
Ladysmith, WI
-2
6
7
10X
Josh Schmidt Becker, MN
Becker, MN
1
7
5
20
Chris Johnson Superior, WI
Superior, WI
-2
All transfer
Finish
Start
#
Competitor
Hometown
+/-
1
2
36
Darin Meierotto Superior, WI
Superior, WI
1
2
6
46
Dustin Nelson Ogilvie, MN
Ogilvie, MN
4
3
7
21C
Patrick Beeksma Ironwood, MI
Ironwood, MI
4
4
1
33
Austin Niemeyer Brainerd, MN
Brainerd, MN
-3
5
3
19X
William Fisher Shell Lake, WI
Shell Lake, WI
-2
6
5
20N
Jeremy North Huron, SD
Huron, SD
-1
7
4
34
Taylor Madrinich Duluth, MN
Duluth, MN
-3
All transfer
WISSOTA Midwest Mods
Finish
Start
#
Competitor
Hometown
+/-
1
1
32III
Cody Carlson Superior, WI
Superior, WI
-
2
5
16
Ryan Savoy Superior, WI
Superior, WI
3
3
3
18S
Kennedy Swan Chippewa Falls, WI
Chippewa Falls, WI
-
4
7
87
William Moelter Elk Mound, WI
Elk Mound, WI
3
5
4
3M
McLean Andrews Duluth, MN
Duluth, MN
-1
6
2
2
Tanner Gehl Solon Springs, WI
Solon Springs, WI
-4
7
9
64
Evan Checkalski Duluth, MN
Duluth, MN
2
8
12
34
Taylor Madrinich Duluth, MN
Duluth, MN
4
9
8
94
Matt Sorenson Duluth, MN
Duluth, MN
-1
10
13
19J
Jared Akervik Superior, WI
Superior, WI
3
11
6
28
Paul Ripley Duluth, MN
Duluth, MN
-5
12
14
18
Tacoma Randall Rice Lake, WI
Rice Lake, WI
2
13 DNF
10
3B
Austin Blom Saginaw, MN
Saginaw, MN
-3
14 DNF
11
24X
Todd Carlson Andover, MN
Andover, MN
-3
Finish
Start
#
Competitor
Hometown
+/-
1
3
32III
Cody Carlson Superior, WI
Superior, WI
2
2
1
3M
McLean Andrews Duluth, MN
Duluth, MN
-1
3
6
18S
Kennedy Swan Chippewa Falls, WI
Chippewa Falls, WI
3
4
5
28
Paul Ripley Duluth, MN
Duluth, MN
1
5
4
64
Evan Checkalski Duluth, MN
Duluth, MN
-1
6
2
24X
Todd Carlson Andover, MN
Andover, MN
-4
7
7
19J
Jared Akervik Superior, WI
Superior, WI
-
All transfer
Finish
Start
#
Competitor
Hometown
+/-
1
1
87
William Moelter Elk Mound, WI
Elk Mound, WI
-
2
2
2
Tanner Gehl Solon Springs, WI
Solon Springs, WI
-
3
4
94
Matt Sorenson Duluth, MN
Duluth, MN
1
4
7
16
Ryan Savoy Superior, WI
Superior, WI
3
5
6
3B
Austin Blom Saginaw, MN
Saginaw, MN
1
6
5
34
Taylor Madrinich Duluth, MN
Duluth, MN
-1
7
3
18
Tacoma Randall Rice Lake, WI
Rice Lake, WI
-4
All transfer
WISSOTA Pure Stock
Finish
Start
#
Competitor
Hometown
+/-
1
8
26
Tyler Kachinske Duluth, MN
Duluth, MN
7
2
1
17
Aaron Bernick Duluth, MN
Duluth, MN
-1
3
3
N8
Nate Rose Duluth, MN
Duluth, MN
-
4
7
11E
Dylan Shelton Hermantown, MN
Hermantown, MN
3
5
4
131
Jessie Treviranus Hawthorne, WI
Hawthorne, WI
-1
6
5
3G
Guy Gaskill Duluth, MN
Duluth, MN
-1
7
6
31
Tom Treviranus Hawthorne, WI
Hawthorne, WI
-1
8
9
9W
Anthony Woodhull Superior, WI
Superior, WI
1
9 DNF
2
15X
Rob Christman Superior, WI
Superior, WI
-7
DNS
10
16
Cory Jorgensen Duluth, MN
Duluth, MN
-
DQ
11
2024
Joe Pajtash Trego, WI
Trego, WI
-
Finish
Start
#
Competitor
Hometown
+/-
1
1
11E
Dylan Shelton Hermantown, MN
Hermantown, MN
-
2
2
N8
Nate Rose Duluth, MN
Duluth, MN
-
3
3
15X
Rob Christman Superior, WI
Superior, WI
-
4
5
131
Jessie Treviranus Hawthorne, WI
Hawthorne, WI
1
5 DNF
4
16
Cory Jorgensen Duluth, MN
Duluth, MN
-1
DNS
6
2024
Joe Pajtash Trego, WI
Trego, WI
-
All transfer
Finish
Start
#
Competitor
Hometown
+/-
1
4
31
Tom Treviranus Hawthorne, WI
Hawthorne, WI
3
2
2
26
Tyler Kachinske Duluth, MN
Duluth, MN
-
3
1
17
Aaron Bernick Duluth, MN
Duluth, MN
-2
4
3
3G
Guy Gaskill Duluth, MN
Duluth, MN
-1
5
5
9W
Anthony Woodhull Superior, WI
Superior, WI
-
All transfer
WISSOTA Hornet
Finish
Start
#
Competitor
Hometown
+/-
1
8
14A
A.J. House Cloquet, MN
Cloquet, MN
7
2
5
47J
Justin Barsness Grand Rapids, MN
Grand Rapids, MN
3
3
3
45
Keegan Kough Proctor, MN
Proctor, MN
-
4
7
44K
Joshua Kough Duluth, MN
Duluth, MN
3
5
9
35
Alyssa Nelson Merrifield, MN
Merrifield, MN
4
6
6
23
Kristy Marken Duluth, MN
Duluth, MN
-
7
2
40R
Tristen McLynn Grand Rapids, MN
Grand Rapids, MN
-5
8
11
7S
Marty Serbus Kinney, MN
Kinney, MN
3
9
12
9
Lucas Lillo Duluth, MN
Duluth, MN
3
10
14
17
Brandon Anderson Duluth, MN
Duluth, MN
4
11
4
08SR
Richard Andrews Sr Duluth, MN
Duluth, MN
-7
12
10
29R
Noah Rose Duluth, MN
Duluth, MN
-2
13
13
29
Eva Lillo Duluth, MN
Duluth, MN
-
14 DNF
1
25X
Bonnie McLynn Grand Rapids, MN
Grand Rapids, MN
-13
Finish
Start
#
Competitor
Hometown
+/-
1
2
47J
Justin Barsness Grand Rapids, MN
Grand Rapids, MN
1
2
5
14A
A.J. House Cloquet, MN
Cloquet, MN
3
3
1
45
Keegan Kough Proctor, MN
Proctor, MN
-2
4
4
23
Kristy Marken Duluth, MN
Duluth, MN
-
5
3
35
Alyssa Nelson Merrifield, MN
Merrifield, MN
-2
6
7
7S
Marty Serbus Kinney, MN
Kinney, MN
1
7 DNF
6
17
Brandon Anderson Duluth, MN
Duluth, MN
-1
All transfer
Finish
Start
#
Competitor
Hometown
+/-
1
2
44K
Joshua Kough Duluth, MN
Duluth, MN
1
2
1
40R
Tristen McLynn Grand Rapids, MN
Grand Rapids, MN
-1
3
4
08SR
Richard Andrews Sr Duluth, MN
Duluth, MN
1
4
7
25X
Bonnie McLynn Grand Rapids, MN
Grand Rapids, MN
3
5
6
29R
Noah Rose Duluth, MN
Duluth, MN
1
6
3
9
Lucas Lillo Duluth, MN
Duluth, MN
-3
7
5
29
Eva Lillo Duluth, MN
Duluth, MN
-2
All transfer