July 10th - Jam the Stands Night/Military Night - Free Admission. Thanks to North Star Community Services & Halvor Lines.

July 29th & 30th - Monster Trucks Invade Halvor Lines Speedway!

Midsummer Night of Mayhem is returning to the Havlor Lines Speedway August 6th!

50th Annual Silver 1000/Structural Buildings Late Models Thursday September 1st - Rain date Thursday September 29th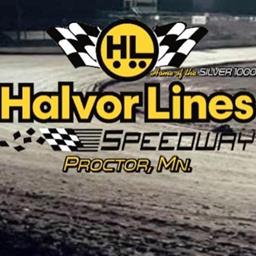 6/4/2023 - Halvor Lines Speedway
Proctor, MN
Old Timers/Meet the Drivers/American Cancer Society Night presented by Northern Fitness Solutions
Point night number 4 for WISSOTA Late Models, Modifieds, Super Stocks, Midwest Modifieds, Pure Stocks, and Hornets. Get to the track early to meet the drivers on the front stretch before racing begins.
WISSOTA Late Model

15 entries

WISSOTA Modifieds

10 entries

WISSOTA Super Stock

16 entries

WISSOTA Midwest Mods

12 entries

WISSOTA Pure Stock

9 entries

WISSOTA Hornet

14 entries

NVSC Modifieds

6 entries

Northern Vintage Stockcar Racers

NVSC Full Body Cars

11 entries
Full Event Information on MyRacePass
WISSOTA Late Model
Finish
Start
#
Competitor
Hometown
+/-
1
4
16
Derek Vesel Hibbing, MN
Hibbing, MN
3
2
3
30
Kevin Burdick Proctor, MN
Proctor, MN
1
3
5
47
Danny Vang Deerwood, MN
Deerwood, MN
2
4
2
7
Harry Hanson Eveleth, MN
Eveleth, MN
-2
5
6
1
Lukas Koski New Richmond, WI
New Richmond, WI
1
6
11
29F
Dave Flynn Superior, WI
Superior, WI
5
7
8
51
Charles Olson Cannon Falls, MN
Cannon Falls, MN
1
8
12
79
Kevin Carlson Hermantown, MN
Hermantown, MN
4
9
1
7C
Robbie Cooper South Range, WI
South Range, WI
-8
10
7
11D
Tim McMann Duluth, MN
Duluth, MN
-3
11
9
9M
Ronnie Malecki Duluth, MN
Duluth, MN
-2
12
10
75
Eric Lillo Proctor, MN
Proctor, MN
-2
13 DNF
14
9W
Douglas Woodhull Jr Superior, WI
Superior, WI
1
14 DNF
13
9
Chris Lillo Duluth, MN
Duluth, MN
-1
DNS
15
9L
Lucas Lillo Duluth, MN
Duluth, MN
-
Finish
Start
#
Competitor
Hometown
+/-
1
2
47
Danny Vang Deerwood, MN
Deerwood, MN
1
2
1
16
Derek Vesel Hibbing, MN
Hibbing, MN
-1
3
3
51
Charles Olson Cannon Falls, MN
Cannon Falls, MN
-
4
6
11D
Tim McMann Duluth, MN
Duluth, MN
2
5
4
9M
Ronnie Malecki Duluth, MN
Duluth, MN
-1
6
8
29F
Dave Flynn Superior, WI
Superior, WI
2
7
7
79
Kevin Carlson Hermantown, MN
Hermantown, MN
-
8
5
9
Chris Lillo Duluth, MN
Duluth, MN
-3
Finish
Start
#
Competitor
Hometown
+/-
1
3
30
Kevin Burdick Proctor, MN
Proctor, MN
2
2
5
7
Harry Hanson Eveleth, MN
Eveleth, MN
3
3
4
1
Lukas Koski New Richmond, WI
New Richmond, WI
1
4
2
7C
Robbie Cooper South Range, WI
South Range, WI
-2
5
1
75
Eric Lillo Proctor, MN
Proctor, MN
-4
6 DNF
6
9W
Douglas Woodhull Jr Superior, WI
Superior, WI
-
7 DNF
7
9L
Lucas Lillo Duluth, MN
Duluth, MN
-
WISSOTA Modifieds
Finish
Start
#
Competitor
Hometown
+/-
1
4
22
Brandon Copp Brule, WI
Brule, WI
3
2
1
55W
Jeffrey Wood Chisholm, MN
Chisholm, MN
-1
3
3
11
Jody Bellefeuille Carlton, MN
Carlton, MN
-
4
7
18S
Kennedy Swan Chippewa Falls, WI
Chippewa Falls, WI
3
5
2
1L
Donnie Lofdahl Duluth, MN
Duluth, MN
-3
6
5
86
Don Smith Cohasset, MN
Cohasset, MN
-1
7
9
212
Mike Klippenstein Duluth, MN
Duluth, MN
2
8
6
21
Matt DePiero Fort Frances, ON
Fort Frances, ON
-2
9 DNF
10
68K
Dan Kingsley Superior, WI
Superior, WI
1
DNS
8
19J
Jack Rivord Superior, WI
Superior, WI
-
Finish
Start
#
Competitor
Hometown
+/-
1
2
55W
Jeffrey Wood Chisholm, MN
Chisholm, MN
1
2
4
1L
Donnie Lofdahl Duluth, MN
Duluth, MN
2
3
7
11
Jody Bellefeuille Carlton, MN
Carlton, MN
4
4
8
22
Brandon Copp Brule, WI
Brule, WI
4
5
1
86
Don Smith Cohasset, MN
Cohasset, MN
-4
6
9
21
Matt DePiero Fort Frances, ON
Fort Frances, ON
3
7
5
18S
Kennedy Swan Chippewa Falls, WI
Chippewa Falls, WI
-2
8
6
19J
Jack Rivord Superior, WI
Superior, WI
-2
9
10
212
Mike Klippenstein Duluth, MN
Duluth, MN
1
10
3
68K
Dan Kingsley Superior, WI
Superior, WI
-7
WISSOTA Super Stock
Finish
Start
#
Competitor
Hometown
+/-
1
4
77
Scott Lawrence Superior, WI
Superior, WI
3
2
7
27
Matt Deragon Ashland, WI
Ashland, WI
5
3
8
36
Darin Meierotto Superior, WI
Superior, WI
5
4
3
3B
Austin Blom Saginaw, MN
Saginaw, MN
-1
5
12
45
Jordan Grimm Mahtowa, MN
Mahtowa, MN
7
6
15
76
Doug Koski Chisholm, MN
Chisholm, MN
9
7
6
41
Mikey Vajdl Chisholm, MN
Chisholm, MN
-1
8
16
77N
Jake Nevala Ashland, WI
Ashland, WI
8
9
9
6
Dan Peterson Foxboro, WI
Foxboro, WI
-
10
11
41X
Brian Vajdl Chisholm, MN
Chisholm, MN
1
11 DNF
10
11
Kevin Salin Iron, MN
Iron, MN
-1
12 DNF
14
44K
Joshua Kough Duluth, MN
Duluth, MN
2
13 DNF
5
24
Jase Lien Mora, MN
Mora, MN
-8
14 DNF
1
32F
Brian Carl Duluth, MN
Duluth, MN
-13
15 DNF
2
22
Mike Sirois Duluth, MN
Duluth, MN
-13
DNS
13
82
Paul Gucinski Superior, WI
Superior, WI
-
Finish
Start
#
Competitor
Hometown
+/-
1
1
36
Darin Meierotto Superior, WI
Superior, WI
-
2
2
24
Jase Lien Mora, MN
Mora, MN
-
3
8
77
Scott Lawrence Superior, WI
Superior, WI
5
4
5
41
Mikey Vajdl Chisholm, MN
Chisholm, MN
1
5
6
6
Dan Peterson Foxboro, WI
Foxboro, WI
1
6
3
41X
Brian Vajdl Chisholm, MN
Chisholm, MN
-3
7 DNF
7
82
Paul Gucinski Superior, WI
Superior, WI
-
DNS
4
77N
Jake Nevala Ashland, WI
Ashland, WI
-
Finish
Start
#
Competitor
Hometown
+/-
1
1
3B
Austin Blom Saginaw, MN
Saginaw, MN
-
2
2
32F
Brian Carl Duluth, MN
Duluth, MN
-
3
3
27
Matt Deragon Ashland, WI
Ashland, WI
-
4
6
22
Mike Sirois Duluth, MN
Duluth, MN
2
5
4
11
Kevin Salin Iron, MN
Iron, MN
-1
6
8
45
Jordan Grimm Mahtowa, MN
Mahtowa, MN
2
7 DNF
7
44K
Joshua Kough Duluth, MN
Duluth, MN
-
8 DNF
5
76
Doug Koski Chisholm, MN
Chisholm, MN
-3
WISSOTA Midwest Mods
Finish
Start
#
Competitor
Hometown
+/-
1
5
17B
Zach Benson Princeton, MN
Princeton, MN
4
2
2
16
Cory Jorgensen Duluth, MN
Duluth, MN
-
3
4
64
Evan Checkalski Duluth, MN
Duluth, MN
1
4
6
32III
Cody Carlson Superior, WI
Superior, WI
2
5
10
16S
Ryan Savoy Superior, WI
Superior, WI
5
6
3
28
Paul Ripley Duluth, MN
Duluth, MN
-3
7
12
2
Tanner Gehl Solon Springs, WI
Solon Springs, WI
5
8
8
63X
Grayson Pratt Otsego, MN
Otsego, MN
-
9
7
T17
Tanner Hicks Ashland, WI
Ashland, WI
-2
10
1
21R
Ross Siiter Esko, MN
Esko, MN
-9
11
9
34
Taylor Madrinich Duluth, MN
Duluth, MN
-2
DNS
11
94
Matt Sorenson Duluth, MN
Duluth, MN
-
Finish
Start
#
Competitor
Hometown
+/-
1
3
16
Cory Jorgensen Duluth, MN
Duluth, MN
2
2
5
28
Paul Ripley Duluth, MN
Duluth, MN
3
3
6
17B
Zach Benson Princeton, MN
Princeton, MN
3
4
4
63X
Grayson Pratt Otsego, MN
Otsego, MN
-
5
1
34
Taylor Madrinich Duluth, MN
Duluth, MN
-4
DNS
2
94
Matt Sorenson Duluth, MN
Duluth, MN
-
Finish
Start
#
Competitor
Hometown
+/-
1
2
64
Evan Checkalski Duluth, MN
Duluth, MN
1
2
4
32III
Cody Carlson Superior, WI
Superior, WI
2
3
3
T17
Tanner Hicks Ashland, WI
Ashland, WI
-
4
6
21R
Ross Siiter Esko, MN
Esko, MN
2
5 DNF
5
16S
Ryan Savoy Superior, WI
Superior, WI
-
DNS
1
2
Tanner Gehl Solon Springs, WI
Solon Springs, WI
-
WISSOTA Pure Stock
Finish
Start
#
Competitor
Hometown
+/-
1
2
17
Aaron Bernick Duluth, MN
Duluth, MN
1
2
4
40C
Chaston Finckbone Grand Rapids, MN
Grand Rapids, MN
2
3
3
11E
Dylan Shelton Hermantown, MN
Hermantown, MN
-
4
1
86J
Jake Smith Cohasset, MN
Cohasset, MN
-3
5
8
26
Tyler Kachinske Duluth, MN
Duluth, MN
3
6
7
24K
Ryan Kough Isabella, MN
Isabella, MN
1
7
6
23
Kristy Rose Duluth, MN
Duluth, MN
-1
8
5
8
Jonny Nowak Proctor, MN
Proctor, MN
-3
DNS
9
45
Keegan Kough Proctor, MN
Proctor, MN
-
Finish
Start
#
Competitor
Hometown
+/-
1
5
17
Aaron Bernick Duluth, MN
Duluth, MN
4
2
1
86J
Jake Smith Cohasset, MN
Cohasset, MN
-1
3
3
40C
Chaston Finckbone Grand Rapids, MN
Grand Rapids, MN
-
4
7
8
Jonny Nowak Proctor, MN
Proctor, MN
3
5
6
11E
Dylan Shelton Hermantown, MN
Hermantown, MN
1
6
2
23
Kristy Rose Duluth, MN
Duluth, MN
-4
7 DNF
8
24K
Ryan Kough Isabella, MN
Isabella, MN
1
8 DNF
4
26
Tyler Kachinske Duluth, MN
Duluth, MN
-4
DNS
9
45
Keegan Kough Proctor, MN
Proctor, MN
-
WISSOTA Hornet
Finish
Start
#
Competitor
Hometown
+/-
1
6
14A
A.J. House Cloquet, MN
Cloquet, MN
5
2
10
24
Michael Teggatz Mahtowa, MN
Mahtowa, MN
8
3
4
20D
Derek Dunbar Iron River, WI
Iron River, WI
1
4
3
1M
Allan McDougall Duluth, MN
Duluth, MN
-1
5
5
00
Derek Ament Mahtowa, MN
Mahtowa, MN
-
6
13
9G
Carson Gotelaere Superior, WI
Superior, WI
7
7
7
71
Wally Ament Carlton, MN
Carlton, MN
-
8
11
15H
Justin Houck Cloquet, MN
Cloquet, MN
3
9
1
10A
Riley Ament Mahtowa, MN
Mahtowa, MN
-8
10
12
44
Payton Swenson Esko, MN
Esko, MN
2
11
9
69
Madisyn Olson Culver, MN
Culver, MN
-2
12
8
08SR
Richard Andrews Sr Duluth, MN
Duluth, MN
-4
13 DNF
2
44L
Brett Leino Barnum, MN
Barnum, MN
-11
DNS
14
28
Kyle House Wrenshall, MN
Wrenshall, MN
-
Finish
Start
#
Competitor
Hometown
+/-
1
1
1M
Allan McDougall Duluth, MN
Duluth, MN
-
2
2
44L
Brett Leino Barnum, MN
Barnum, MN
-
3
6
20D
Derek Dunbar Iron River, WI
Iron River, WI
3
4
3
08SR
Richard Andrews Sr Duluth, MN
Duluth, MN
-1
5
5
69
Madisyn Olson Culver, MN
Culver, MN
-
6 DNF
7
9G
Carson Gotelaere Superior, WI
Superior, WI
1
7 DNF
4
28
Kyle House Wrenshall, MN
Wrenshall, MN
-3
Finish
Start
#
Competitor
Hometown
+/-
1
7
14A
A.J. House Cloquet, MN
Cloquet, MN
6
2
6
00
Derek Ament Mahtowa, MN
Mahtowa, MN
4
3
2
71
Wally Ament Carlton, MN
Carlton, MN
-1
4
4
10A
Riley Ament Mahtowa, MN
Mahtowa, MN
-
5
1
24
Michael Teggatz Mahtowa, MN
Mahtowa, MN
-4
6
5
15H
Justin Houck Cloquet, MN
Cloquet, MN
-1
7
3
44
Payton Swenson Esko, MN
Esko, MN
-4
NVSC Modifieds
Finish
Start
#
Competitor
Hometown
+/-
1
4
1S
Mike Selberg Champlin, MN
Champlin, MN
3
2
5
31X
John "butch" Bethke Oakdale, MN
Oakdale, MN
3
3
6
44B
Brian Vang Deerwood, MN
Deerwood, MN
3
4
1
1P
Mark Peine White Bear Lake, MN
White Bear Lake, MN
-3
5
2
11
Dave Stone Red Wing, MN
Red Wing, MN
-3
6
3
44
Brenden LePage Culver, MN
Culver, MN
-3
Finish
Start
#
Competitor
Hometown
+/-
1
2
44B
Brian Vang Deerwood, MN
Deerwood, MN
1
2
5
31X
John "butch" Bethke Oakdale, MN
Oakdale, MN
3
3
3
1S
Mike Selberg Champlin, MN
Champlin, MN
-
4
4
44
Brenden LePage Culver, MN
Culver, MN
-
5
6
1P
Mark Peine White Bear Lake, MN
White Bear Lake, MN
1
6
1
11
Dave Stone Red Wing, MN
Red Wing, MN
-5
NVSC Full Body Cars
Finish
Start
#
Competitor
Hometown
+/-
1
1
28
Allan Keske Zimmerman, MN
Zimmerman, MN
-
2
6
20
Tom Godfrey Backus, MN
Backus, MN
4
3
8
57
Travis Doyle Hermantown, MN
Hermantown, MN
5
4
7
47
Austin Hudyma Duluth, MN
Duluth, MN
3
5
9
76
Todd Doyle Hermantown, MN
Hermantown, MN
4
6
4
7
Kirt Stillson Poplar, WI
Poplar, WI
-2
7
2
70
Mike Hudyma Duluth, MN
Duluth, MN
-5
8
3
1
Paul Dolphy Mounds View, MN
Mounds View, MN
-5
9
10
40
Jacob Ryan Pequot Lakes, MN
Pequot Lakes, MN
1
10 DNF
5
34
Lee Lovgren Hugo, MN
Hugo, MN
-5
DNS
11
07
Patrick McCarthy Farmington, MN
Farmington, MN
-
Finish
Start
#
Competitor
Hometown
+/-
1
2
76
Todd Doyle Hermantown, MN
Hermantown, MN
1
2
3
70
Mike Hudyma Duluth, MN
Duluth, MN
1
3
8
28
Allan Keske Zimmerman, MN
Zimmerman, MN
5
4
7
20
Tom Godfrey Backus, MN
Backus, MN
3
5
5
47
Austin Hudyma Duluth, MN
Duluth, MN
-
6
4
7
Kirt Stillson Poplar, WI
Poplar, WI
-2
7
1
07
Patrick McCarthy Farmington, MN
Farmington, MN
-6
8
9
57
Travis Doyle Hermantown, MN
Hermantown, MN
1
9
11
40
Jacob Ryan Pequot Lakes, MN
Pequot Lakes, MN
2
10
10
34
Lee Lovgren Hugo, MN
Hugo, MN
-
11
6
1
Paul Dolphy Mounds View, MN
Mounds View, MN
-5