July 10th - Jam the Stands Night/Military Night - Free Admission. Thanks to North Star Community Services & Halvor Lines.

July 29th & 30th - Monster Trucks Invade Halvor Lines Speedway!

Midsummer Night of Mayhem is returning to the Havlor Lines Speedway August 6th!

50th Annual Silver 1000/Structural Buildings Late Models Thursday September 1st - Rain date Thursday September 29th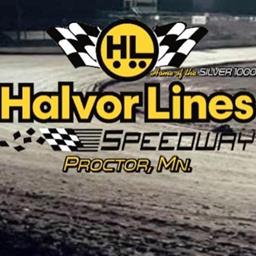 8/31/2023 - Halvor Lines Speedway
Proctor, MN
51st Annual Silver 1000
51st Annual Silver 1000. Come see the best drivers in WISSOTA Late Model and Modified competition battle at this historic Northland Crown Jewel. We are also looking for lap Sponsors. If you or your company like to sponsor, please contact us.
Grandstands: Age 13+ $25 Age 12 & Under $5
Gates open 4PM Hot Laps at 6:30 Racing at 7PM
Draw Fees LM $100
Modified $25
Pit Passes $30 each
WISSOTA Late Model

39 entries

Wissota Late Model Challenge Series

WISSOTA Modifieds

30 entries
Full Event Information on MyRacePass
WISSOTA Late Model
40 Laps
A Feature 1Structural Buildings Inc.
Finish
Start
#
Competitor
Hometown
+/-
1
1
44N
Darrell Nelson Hermantown, MN
Hermantown, MN
-
2
2
7
Harry Hanson Eveleth, MN
Eveleth, MN
-
3
5
16
Derek Vesel Hibbing, MN
Hibbing, MN
2
4
3
81
Ashley Anderson Elk Mound, WI
Elk Mound, WI
-1
5
4
85
John Kaanta Elk Mound, WI
Elk Mound, WI
-1
6
7
11
Pat Doar New Richmond, WI
New Richmond, WI
1
7
11
6M
Jeff Massingill Keewatin, MN
Keewatin, MN
4
8
10
31
Travis Budisalovich Minneapolis, MN
Minneapolis, MN
2
9
9
27
Jake Redetzke Menomonie, WI
Menomonie, WI
-
10
21
28
Jeff Provinzino Hibbing, MN
Hibbing, MN
11
11
23
28S
Sam Mars Menomonie, WI
Menomonie, WI
12
12
16
30
Kevin Burdick Proctor, MN
Proctor, MN
4
13
20
23
Kyle Peterlin Hibbing, MN
Hibbing, MN
7
14
19
47
Danny Vang Deerwood, MN
Deerwood, MN
5
15
12
29F
Dave Flynn Superior, WI
Superior, WI
-3
16
13
54
Rick Niemi Eveleth, MN
Eveleth, MN
-3
17
18
21F
Gunner Frank Montrose, IA
Montrose, IA
1
18
24
44
Cole Schill Hawley, MN
Hawley, MN
6
19
14
19
Steve Laursen Cumberland, WI
Cumberland, WI
-5
20
22
21
Mike Bellefeuille Duluth, MN
Duluth, MN
2
21
25
4L
Carey LePage Culver, MN
Culver, MN
4
22 DNF
6
54L
Jayme Lautigar Gilbert, MN
Gilbert, MN
-16
23 DNF
26
79
Kevin Carlson Hermantown, MN
Hermantown, MN
3
24 DNF
15
24L
Aaron Lillo Proctor, MN
Proctor, MN
-9
25 DNF
17
21G
Todd Frank Montrose, IA
Montrose, IA
-8
26 DNF
8
15*
Ryan Mikkelson Alexandria, MN
Alexandria, MN
-18
15 Laps
B Feature 1Dirt Track Supply
Finish
Start
#
Competitor
Hometown
+/-
1
2
21G
Todd Frank Montrose, IA
Montrose, IA
1
2
4
47
Danny Vang Deerwood, MN
Deerwood, MN
2
3
1
28
Jeff Provinzino Hibbing, MN
Hibbing, MN
-2
Top 3 transfer
4
3
22E
Kevin Eder Cameron, WI
Cameron, WI
-1
5
6
21X
Joel Collins Princeton, MN
Princeton, MN
1
6
5
28S
Sam Mars Menomonie, WI
Menomonie, WI
-1
7
7
7X
Jesse Glenz Fall Creek, WI
Fall Creek, WI
-
8
11
44
Cole Schill Hawley, MN
Hawley, MN
3
9
9
51
Charles Olson Cannon Falls, MN
Cannon Falls, MN
-
10
8
46
Robbie Cooper South Range, WI
South Range, WI
-2
11
10
9
Chris Lillo Duluth, MN
Duluth, MN
-1
12 DNF
12
79
Kevin Carlson Hermantown, MN
Hermantown, MN
-
15 Laps
B Feature 2Dirt Track Supply
Finish
Start
#
Competitor
Hometown
+/-
1
2
21F
Gunner Frank Montrose, IA
Montrose, IA
1
2
5
23
Kyle Peterlin Hibbing, MN
Hibbing, MN
3
3
1
21
Mike Bellefeuille Duluth, MN
Duluth, MN
-2
Top 3 transfer
4
3
17
Deven VanHouse Silver Bay, MN
Silver Bay, MN
-1
5
4
22
Brett Shafer Menomonie, WI
Menomonie, WI
-1
6
11
24
Jase Lien Mora, MN
Mora, MN
5
7
10
35
George Ledin Jr Britt, MN
Britt, MN
3
8
7
4L
Carey LePage Culver, MN
Culver, MN
-1
9
8
9M
Ronnie Malecki Duluth, MN
Duluth, MN
-1
10
9
2K
Patrick Kelley Forest Lake, MN
Forest Lake, MN
-1
11 DNF
6
11D
Tim McMann Duluth, MN
Duluth, MN
-5
10 Laps
Heat 1Garage Tech Xtreme
Finish
Start
#
Competitor
Hometown
+/-
1
2
16
Derek Vesel Hibbing, MN
Hibbing, MN
1
2
3
11
Pat Doar New Richmond, WI
New Richmond, WI
1
3
5
15*
Ryan Mikkelson Alexandria, MN
Alexandria, MN
2
4
1
21
Mike Bellefeuille Duluth, MN
Duluth, MN
-3
5
9
31
Travis Budisalovich Minneapolis, MN
Minneapolis, MN
4
6
6
47
Danny Vang Deerwood, MN
Deerwood, MN
-
7
4
28S
Sam Mars Menomonie, WI
Menomonie, WI
-3
8
8
4L
Carey LePage Culver, MN
Culver, MN
-
9
10
2K
Patrick Kelley Forest Lake, MN
Forest Lake, MN
1
10 DNF
7
44
Cole Schill Hawley, MN
Hawley, MN
-3
10 Laps
Heat 2Marv's Trailers
Finish
Start
#
Competitor
Hometown
+/-
1
2
85
John Kaanta Elk Mound, WI
Elk Mound, WI
1
2
4
44N
Darrell Nelson Hermantown, MN
Hermantown, MN
2
3
1
54
Rick Niemi Eveleth, MN
Eveleth, MN
-2
4
3
30
Kevin Burdick Proctor, MN
Proctor, MN
-1
5
5
21F
Gunner Frank Montrose, IA
Montrose, IA
-
6
7
17
Deven VanHouse Silver Bay, MN
Silver Bay, MN
1
7
6
21X
Joel Collins Princeton, MN
Princeton, MN
-1
8
8
46
Robbie Cooper South Range, WI
South Range, WI
-
9
9
9
Chris Lillo Duluth, MN
Duluth, MN
-
10
10
79
Kevin Carlson Hermantown, MN
Hermantown, MN
-
Finish
Start
#
Competitor
Hometown
+/-
1
2
81
Ashley Anderson Elk Mound, WI
Elk Mound, WI
1
2
4
7
Harry Hanson Eveleth, MN
Eveleth, MN
2
3
1
29F
Dave Flynn Superior, WI
Superior, WI
-2
4
3
24L
Aaron Lillo Proctor, MN
Proctor, MN
-1
5
7
28
Jeff Provinzino Hibbing, MN
Hibbing, MN
2
6
8
21G
Todd Frank Montrose, IA
Montrose, IA
2
7
5
23
Kyle Peterlin Hibbing, MN
Hibbing, MN
-2
8
6
7X
Jesse Glenz Fall Creek, WI
Fall Creek, WI
-2
9
10
51
Charles Olson Cannon Falls, MN
Cannon Falls, MN
1
10
9
24
Jase Lien Mora, MN
Mora, MN
-1
Finish
Start
#
Competitor
Hometown
+/-
1
1
54L
Jayme Lautigar Gilbert, MN
Gilbert, MN
-
2
2
27
Jake Redetzke Menomonie, WI
Menomonie, WI
-
3
3
6M
Jeff Massingill Keewatin, MN
Keewatin, MN
-
4
4
19
Steve Laursen Cumberland, WI
Cumberland, WI
-
5
5
22E
Kevin Eder Cameron, WI
Cameron, WI
-
6
6
22
Brett Shafer Menomonie, WI
Menomonie, WI
-
7
7
11D
Tim McMann Duluth, MN
Duluth, MN
-
8
8
9M
Ronnie Malecki Duluth, MN
Duluth, MN
-
9
9
35
George Ledin Jr Britt, MN
Britt, MN
-
Finish
Start
#
Competitor
Hometown
Time
1
7
28S
Sam Mars Menomonie, WI
Menomonie, WI
15.011
2
10
11
Pat Doar New Richmond, WI
New Richmond, WI
15.212
3
8
16
Derek Vesel Hibbing, MN
Hibbing, MN
15.237
4
3
21
Mike Bellefeuille Duluth, MN
Duluth, MN
15.260
5
2
15*
Ryan Mikkelson Alexandria, MN
Alexandria, MN
15.273
6
4
47
Danny Vang Deerwood, MN
Deerwood, MN
15.422
7
9
44
Cole Schill Hawley, MN
Hawley, MN
15.469
8
1
4L
Carey LePage Culver, MN
Culver, MN
15.688
9
5
31
Travis Budisalovich Minneapolis, MN
Minneapolis, MN
15.694
10
6
2K
Patrick Kelley Forest Lake, MN
Forest Lake, MN
16.479
Finish
Start
#
Competitor
Hometown
Time
1
4
44N
Darrell Nelson Hermantown, MN
Hermantown, MN
14.948
2
3
30
Kevin Burdick Proctor, MN
Proctor, MN
15.195
3
9
85
John Kaanta Elk Mound, WI
Elk Mound, WI
15.202
4
2
54
Rick Niemi Eveleth, MN
Eveleth, MN
15.362
5
8
21F
Gunner Frank Montrose, IA
Montrose, IA
15.385
6
10
21X
Joel Collins Princeton, MN
Princeton, MN
15.574
7
1
17
Deven VanHouse Silver Bay, MN
Silver Bay, MN
15.717
8
5
46
Robbie Cooper South Range, WI
South Range, WI
15.823
9
24L
Aaron Lillo Proctor, MN
Proctor, MN
15.954
10
7
79
Kevin Carlson Hermantown, MN
Hermantown, MN
16.456
Finish
Start
#
Competitor
Hometown
Time
1
3
7
Harry Hanson Eveleth, MN
Eveleth, MN
15.068
2
4
24L
Aaron Lillo Proctor, MN
Proctor, MN
15.090
3
8
81
Ashley Anderson Elk Mound, WI
Elk Mound, WI
15.164
4
5
29F
Dave Flynn Superior, WI
Superior, WI
15.249
5
2
23
Kyle Peterlin Hibbing, MN
Hibbing, MN
15.328
6
7
7X
Jesse Glenz Fall Creek, WI
Fall Creek, WI
15.337
7
10
28
Jeff Provinzino Hibbing, MN
Hibbing, MN
15.417
8
6
21G
Todd Frank Montrose, IA
Montrose, IA
15.509
9
1
51
Charles Olson Cannon Falls, MN
Cannon Falls, MN
15.822
10
9
24
Jase Lien Mora, MN
Mora, MN
15.849
Finish
Start
#
Competitor
Hometown
Time
1
3
19
Steve Laursen Cumberland, WI
Cumberland, WI
15.058
2
1
6M
Jeff Massingill Keewatin, MN
Keewatin, MN
15.207
3
9
27
Jake Redetzke Menomonie, WI
Menomonie, WI
15.208
4
7
54L
Jayme Lautigar Gilbert, MN
Gilbert, MN
15.417
5
6
22E
Kevin Eder Cameron, WI
Cameron, WI
15.612
6
5
22
Brett Shafer Menomonie, WI
Menomonie, WI
15.613
7
2
11D
Tim McMann Duluth, MN
Duluth, MN
15.975
8
8
9M
Ronnie Malecki Duluth, MN
Duluth, MN
16.112
9
4
35
George Ledin Jr Britt, MN
Britt, MN
16.337
WISSOTA Modifieds
Finish
Start
#
Competitor
Hometown
+/-
1
2
60
Dan Ebert Lake Shore, MN
Lake Shore, MN
1
2
1
57
Mike Anderson Jim Falls, WI
Jim Falls, WI
-1
3
14
45J
Johnny Broking Grand Rapids, MN
Grand Rapids, MN
11
4
3
98
Al Uotinen Superior, WI
Superior, WI
-1
5
6
44
Darrell Nelson Hermantown, MN
Hermantown, MN
1
6
10
43K
Kaden Blaeser Chippewa Falls, WI
Chippewa Falls, WI
4
7
4
22
Brandon Copp Brule, WI
Brule, WI
-3
8
5
55W
Jeffrey Wood Chisholm, MN
Chisholm, MN
-3
9
13
11
Jody Bellefeuille Carlton, MN
Carlton, MN
4
10
11
55
Jeff Wood Chisholm, MN
Chisholm, MN
1
11
18
22S
Cole Spacek Phillips, WI
Phillips, WI
7
12
17
7A
Shane Sabraski Rice, MN
Rice, MN
5
13
21
22J
Jeff Spacek Phillips, WI
Phillips, WI
8
14
8
18S
Kennedy Swan Chippewa Falls, WI
Chippewa Falls, WI
-6
15
24
2
Todd Gehl Solon Springs, WI
Solon Springs, WI
9
16
22
24D
Duane Dale Hibbing, MN
Hibbing, MN
6
17
9
21F
Nick Oreskovich Mason, WI
Mason, WI
-8
18
12
7XJR
Marcus Dunbar Marenisco, MI
Marenisco, MI
-6
19
20
51
Chris Oertel Marshfield, WI
Marshfield, WI
1
20
23
14
Brad Johnson Wilson, WI
Wilson, WI
3
21 DNF
19
72
Adam Johnson Hill City, MN
Hill City, MN
-2
22 DNF
16
1L
Donnie Lofdahl Duluth, MN
Duluth, MN
-6
23 DNF
7
45
Bob Broking Grand Rapids, MN
Grand Rapids, MN
-16
24 DNF
15
37
Kelly Estey Hibbing, MN
Hibbing, MN
-9
25 DNF
25
212
Mike Klippenstein Duluth, MN
Duluth, MN
-
Finish
Start
#
Competitor
Hometown
+/-
1
1
22J
Jeff Spacek Phillips, WI
Phillips, WI
-
2
2
24D
Duane Dale Hibbing, MN
Hibbing, MN
-
3
3
14
Brad Johnson Wilson, WI
Wilson, WI
-
4
5
2
Todd Gehl Solon Springs, WI
Solon Springs, WI
1
Top 4 transfer
5
8
27P
Parker Anderson Phillips, WI
Phillips, WI
3
6
4
9
Brady Uotinen Superior, WI
Superior, WI
-2
7
9
40JR
Tyler Vernon Mason, WI
Mason, WI
2
8
6
17
Michael Procopio Grand Rapids, MN
Grand Rapids, MN
-2
9
7
9C
John Carpenter Hibbing, MN
Hibbing, MN
-2
10 DNF
10
212
Mike Klippenstein Duluth, MN
Duluth, MN
-
Finish
Start
#
Competitor
Hometown
+/-
1
1
44
Darrell Nelson Hermantown, MN
Hermantown, MN
-
2
2
18S
Kennedy Swan Chippewa Falls, WI
Chippewa Falls, WI
-
3
3
21F
Nick Oreskovich Mason, WI
Mason, WI
-
4
5
11
Jody Bellefeuille Carlton, MN
Carlton, MN
1
5
8
7A
Shane Sabraski Rice, MN
Rice, MN
3
Top 5 transfer
6
6
22J
Jeff Spacek Phillips, WI
Phillips, WI
-
7
7
2
Todd Gehl Solon Springs, WI
Solon Springs, WI
-
8
4
40JR
Tyler Vernon Mason, WI
Mason, WI
-4
Finish
Start
#
Competitor
Hometown
+/-
1
1
60
Dan Ebert Lake Shore, MN
Lake Shore, MN
-
2
2
55W
Jeffrey Wood Chisholm, MN
Chisholm, MN
-
3
4
43K
Kaden Blaeser Chippewa Falls, WI
Chippewa Falls, WI
1
4
3
45J
Johnny Broking Grand Rapids, MN
Grand Rapids, MN
-1
5
7
22S
Cole Spacek Phillips, WI
Phillips, WI
2
Top 5 transfer
6
8
24D
Duane Dale Hibbing, MN
Hibbing, MN
2
7
5
17
Michael Procopio Grand Rapids, MN
Grand Rapids, MN
-2
8 DNF
6
212
Mike Klippenstein Duluth, MN
Duluth, MN
-2
Finish
Start
#
Competitor
Hometown
+/-
1
1
45
Bob Broking Grand Rapids, MN
Grand Rapids, MN
-
2
3
98
Al Uotinen Superior, WI
Superior, WI
1
3
7
55
Jeff Wood Chisholm, MN
Chisholm, MN
4
4
6
37
Kelly Estey Hibbing, MN
Hibbing, MN
2
5
4
72
Adam Johnson Hill City, MN
Hill City, MN
-1
Top 5 transfer
6
2
14
Brad Johnson Wilson, WI
Wilson, WI
-4
DNS
5
9C
John Carpenter Hibbing, MN
Hibbing, MN
-
Finish
Start
#
Competitor
Hometown
+/-
1
1
57
Mike Anderson Jim Falls, WI
Jim Falls, WI
-
2
7
22
Brandon Copp Brule, WI
Brule, WI
5
3
2
7XJR
Marcus Dunbar Marenisco, MI
Marenisco, MI
-1
4
5
1L
Donnie Lofdahl Duluth, MN
Duluth, MN
1
5
6
51
Chris Oertel Marshfield, WI
Marshfield, WI
1
Top 5 transfer
6
3
9
Brady Uotinen Superior, WI
Superior, WI
-3
7
4
27P
Parker Anderson Phillips, WI
Phillips, WI
-3