July 10th - Jam the Stands Night/Military Night - Free Admission. Thanks to North Star Community Services & Halvor Lines.

July 29th & 30th - Monster Trucks Invade Halvor Lines Speedway!

Midsummer Night of Mayhem is returning to the Havlor Lines Speedway August 6th!

50th Annual Silver 1000/Structural Buildings Late Models Thursday September 1st - Rain date Thursday September 29th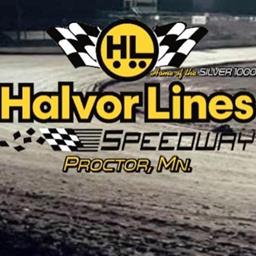 5/14/2023 - Halvor Lines Speedway
Proctor, MN
Sunday Night Showdown
Points night number two of the 2023 season for WISSOTA Late Models, Modifieds, Super Stocks, Midwest Modifieds, Pure Stocks, and Hornets.
Pits Open

3:00 PM

Hot Laps At

4:30 PM

Racing Starts

5:00 PM
WISSOTA Late Model
WISSOTA Modifieds
WISSOTA Super Stock
WISSOTA Midwest Mods
WISSOTA Pure Stock
WISSOTA Hornet